If you can read and understand this poem,
send something back; a burning strand of hair
a still-warm, still-liquid drop of blood
a shell,  thickened from being battered
year on year,  send something back.
 – The Images, from A Wild Patience Has Taken Me This Far, by Adrienne Rich
It is a wet, misty Friday morning in August. Late summer, yet so gloomy I turn the lights on so that I may read. It could be any day, because there are no landmarks in this new territory, no separations. Only the cycling of days following nights and summer getting ready to let go into the keener edge of autumn.
And yet, I measure out my life in time: 20 months since Woods died, 14 months since David died, 5 months since I migrated back from New Zealand and had to start all over again to find myself. Whilst my other hand, all the time, was intent on losing myself, on stripping to the bone.
When I say "trying to find myself", I mean longing to come home, when home is neither "over there" in the brighter future breathed by the Land of the Awakening Dawn, nor here amidst the ancient killing fields and pockets of sacred resistance, we call the United Kingdom.
I can only guess at the significance of this chapter of my life, perched as I am on a windy hillside, on the sacred land of Pen Llyn, looking out across the soft green valleys of Wales towards the Snowdonia Mountain ranges, with Snowdon directly opposite my window to the North East, a shining star of an ancient dawn. And although, I find myself once again on a raw edge and I'd prefer a more nurturing garden, I have chosen to trust in the rightness of my being here; that my soul has led me here for its own reasons.
Perhaps a vision of a United Kingdom has been carried in the soul and in the blood, down the centuries; a dream that can only be consummated in each human heart. And for me, not so much a Kingdom as a Queendom, or a United Androgyne.  This coming home to the united self involves the gathering of all the lost pieces of the soul, here and now, and down through the ages.
It appears I am here for an act of grieving, however long it takes. A mourning, a letting go, a revelation. Just as when the trees let go their leaves in autumn, revealing the architecture of the tree, so too, as the old stories of the self fall away, and false perceptions of reality are seen through, and duly mourned, the shape of the soul becomes more visible.
For forty years this has been my most vital quest: to know the soul. Soul has been my guiding light, my North Star, calling me home. When I listen for her whispers, I enter into a different territory. With intention as the doorway, and listening the key, when the door swings open, I slide through into a bigger space, a watery medium. This is a timeless world where strands of memory trail like seaweed, and flashes of sunlight on the surface, illuminate buried treasures for a fleeting moment and then disappear, leaving me an enchanted explorer in uncertain waters. As an explorer of the deep I have had to learn radical trust and accept this drifting far from the mainstream into the slipstreams of my own unique soul journey.
My favourite poet, Adrienne Rich wrote about this in her poem, Diving into the Wreck.
First having read the book of myths,
and loaded the camera,
and checked the edge of the knife-blade,
I put on the body-armor of black rubber
the absurd flippers
the grave and awkward mask.
I am having to do this
not like Cousteau
with his assiduous team
aboard the sun-flooded schooner
but here alone. …
I have to learn alone
to turn my body without force
in the deep element.
And now: it is easy to forget
what I came for
among so many who have always lived here
swaying their crenellated fans
between the reefs
and besides you breathe differently down here.
I came to explore the wreck.
The words are purposes.
The words are maps.
I came to see the damage that was done
and the treasures that prevail.
I stroke the beam of my lamp
slowly along the flank
of something more permanent than fish or weed
the thing I came for: the wreck and not the story of the wreck
the thing itself and not the myth….
We are, I am, you are
by cowardice or courage
the one who find our way
back to this scene
carrying a knife, a camera
a book of myths
in which our names do not appear.
When I began to navigate this new and ancient territory of the inner being forty years ago, I had no language, other than poetry, to describe my experiences. Nor did I have anyone on a similar journey to talk with. My attempts to communicate usually brought forth ridicule, or I was labelled and stuffed into some pigeon hole of consensual reality, or at best handed a dismissive, "very nice dear".  Even my friends called me "the crazy, creative one" and saw me as idealistic and "out of touch with reality". At another time, I might have ended up in a psychiatric hospital, or gotten me to a nunnery, or chosen, like one of my other literary heroines Virginia Woolf, to let the waters of the river carry me into oblivion.
Yet, once the door was open, I had no choice but to continue my explorations.   Compelled by curiosity, longing, and creative excitement, I chose to write poetry. This was my bridge to this mysterious, watery world of soul.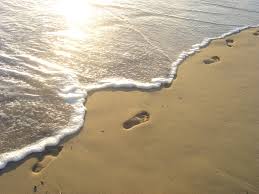 Despite the accusations of impracticality, I managed to keep the strands of my life together through some major inner deconstructions and reconstructions. I paid the mortgage, participated in group life, even started a business. I had no idea then that all over the world, others were waking up to this underwater reality, in their own ways.  We were a new culture of pearl fishers; a generation born to do our spiritual work, not within an enclosed order or sanctuary, but, like the Tibetans monks exiled from their homeland, to navigate the cracks in reality and take faltering steps, trusting in this deep calling of the soul, while being active in worldly life. This is no mean feat.
If you are one of these watery edge dwelling explorers, who like me, has spun webs of creativity from the centre of your own being, and stubbornly eked out an existence from a foothold of no compromise, then please take my words as rainbow bridges reaching out to you in recognition, solidarity, compassion and celebration.
I'll finish today with this poem, Iceberg, which I wrote back then, when the journey was beginning:
Iceberg
I could draw poetry out of silence
with the patience of a fisherwomen
I cut my circle in the ice
and wait.
I want to find the courage to dive deep
beyond conception
to hammer diamonds from the glassy wall
and suck hard at meaning
to make transparent the opaque.
I want to trace with burning fingers
the unique and perfect pattern of each frost flower
to wear a skin so thin
my blood's heat will melt the edge of ice
and make the inert flow.
I want to write poetry with muscle
words that can't be pummelled into submission
but swagger seeking across a page.
I want a new vocabulary for living
a grammar for contradictions
where mind and body rhyme
and my heart's beat
sounds in the sea.
Rose Diamond, 1982