Hello, and welcome to: 
The Sitting with Death and Choosing Life Programme
We are happy to offer you this free gift from our Introductory Package.
Our intention is to open up a conversation around the vital shared aspects of being human: death, dying, grief and loss, and how we can transform suffering into wholeness to awaken new life.
Self Nurture and Expansion Through Difficult Times, 
with Adela Rubio
Human life is full of challenges and sometimes these come thick and fast. When we face into our breakdowns and see them as opportunities and invitations to go deeper, we discover more of who we essentially are. We can make moment to moment choices to live in the body, flow with our breath and natural rhythms and keep opening to life rather than closing, contracting and isolating.
Adela shares her thoughts about:
Partnering with life rather than being a victim of it;
Choosing peace rather than pursuing happiness, and
A three prong approach to self care which nourishes body, mind and soul.
Adela's self care adventure began at twelve when she taught herself yoga from a book. She went on to co-own a health club, became a Certified Holistic Health Counselor, Life Coach and Associate Raw Foods Chef. She even did a Satsang with a Zen Master in India. Combining the best of many healing traditions, along with practical application of your own intuitive wisdom, Adela helps activate your experience of more everyday beauty and bliss.
Rose Diamond is the creator of Tribe in Transition. For the Sitting with Death and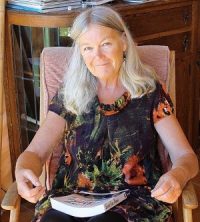 Choosing Life programme, she has drawn on her own recent grieving process and a lifetime's experience as a whole person therapist, meditator, transformational educator and author.
We hope you will enjoy listening. For information about the other five conversations in this first series please go here: